Keep Your BMW Running in Peak Condition with BMW Tires

Now Available at the Automaster BMW Service Center in Shelburne, VT
When it comes to BMW maintenance, drivers in Burlington, Williston, and surrounding areas know to bring their vehicle over to the Automaster BMW because the team at our Service Center consists of technicians who specialize in BMW products. Backed by their expertise, you can ensure that your beloved model always receives proper care. This includes tire-related services, such as the installation of BMW-approved tires - seasonal or otherwise - as well as the diagnosis and repair of problematic tires. So if the time has come for you to check or replace your tires, then visit us today at our dealership in Shelburne, Vermont!
---
What Kind of Tire-Related Services are Offered at Our Dealership?
At our Service Center, we understand that having high-quality tires and maintaining them regularly are two ways in which you can improve the performance of your BMW model. That is why we provide comprehensive tire-related services at our auto shop. These services include the following:
BMW Certified Tires
We sell BMW certified tires at our auto shop; you just have to pick which one accommodates your needs the best. Don't worry, because our BMW experts are here to help.
All-season tires are made out of premium rubber compounds and are finished with detailed tread. This option is ideal for moderate climates.
Performance tires are made out of softer rubber compounds and feature a low profile and stiff sidewalls. This creates a wider tread surface area and improves traction so that you can corner with precision.
Cold weather tires are also made out of softer rubber compounds but are specifically tailored to withstand temperatures below 45 degrees Fahrenheit. Its aggressive tread pattern and sharper edges are especially useful for driving through snow and over ice - a must-have for Vermonters during winter and spring.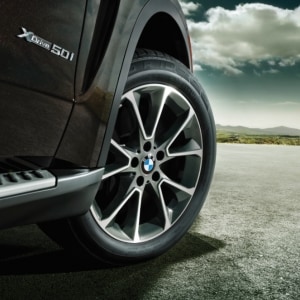 Tire Balancing & Wheel Alignment
Making sure that you have well-balanced tires and correct wheel alignment is crucial not just to the performance of your vehicle but the longevity of these components, too. Improper tire balance will reduce the stability of your model and cause adverse vibrations. Meanwhile, improper wheel alignment will limit the handling of your model and cause faster tire wear. In both cases, a lack of upkeep will eventually result in additional spending that can otherwise be avoided with consistent checkups and repairs. Lucky for our customers, our facility utilizes a Hunter Alignment Machine for these operations. It is one of the most advanced and sought-after pieces of equipment in the industry because of its accuracy and precision.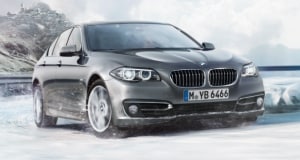 Tire Changes & Seasonal Tire Storage
Living in a northern state like Vermont calls for routine tire changes to complement the challenges that come with the changing of seasons. For this very task, we employ a state-of-the-art Corghi Artiglio Master, a touchless tire changer can complete the process without the chance of scratching or damaging your rims. 
---
BMW Tires & Tire Maintenance FAQ
There are many other facts pertaining to the tires offered by the brand and the maintenance thereof, so we have compiled some frequently asked questions and their appropriate answers for you down below.
What is a BMW Run-flat Tire?
There are times when a flat tire is inevitable, and in that instance, you want to get your BMW to a repair shop without the inconvenience of needing a tow. That is where a BMW Run-Flat tire comes in handy. This type of tire is made out of heat-resistant rubber compounds and can endure extra heat build-up. It also boasts a design that holds steadfast, even while driving around tight bends, and maintains balance. Reinforced sidewalls keep the tire from collapsing even as it deflates, so you can get to a repair shop. With the support of a BMW Run-Flat tire, in the event of a flat, you can travel approximately 50 more miles at a pace of around 50 MPH so that you can get to our auto shop safe and sound.
When do BMW Tires Need to be Replaced?
As is the case with most vehicles, you need to replace your tires on a regular basis. This applies, eventually, even to BMW tires that are celebrated for their durability. Most tires presumably have an average lifespan of 25,000 to 50,000 miles. However, this figure will differ based on the condition of the tires, such as pressure, wear, and tear. You can have these points checked at any time by the technicians at our auto shop.
What Does the Star on BMW Tires Mean?
In essence, the star printed on a BMW tire is much like a seal of approval and indicates whether or not the tire is an original BMW Winter Tire, built in collaboration with world-renowned manufacturers such as Bridgestone. It is present only on tires that have been subject to rigorous testing. In other words, the marking is a reassurance that the tire will perform well even through harsh road conditions.
What is the BMW Tire Pressure Control System?
As a means to make it easier for drivers to stay on top of the maintenance of their vehicle, BMW also offers unique technologies like the Tire Pressure Control System. This electronic unit monitors the pressure of the tires on all four wheels using sensors. It sends data through a pressure indicator to the Control Display so that you can stay informed with ease.
Visit the Automaster BMW in Shelburne Today
Serving Burlington, Willison, Winooski, Essex & Stowe

Now that you have a better perspective about the quality of BMW tires and the significance of maintaining them, we suggest that you schedule a visit to the Automaster BMW Service Center. Conveniently located in Shelburne, Vermont, our dealership is less than a 30-minute drive from areas in and around Burlington, Willison, and Winooski. Whether you live nearby in Essex or farther out in Stowe, our doors are always open to you! Once you see the value of our customer service, you will understand why so many of our friends and neighbors throughout Vermont consider us their go-to resource for all things BMW.
Questions about BMW Tires? Contact our Experts:
* Indicates a required field