Personalize Your Payment With the Structure My Deal Tool at The Automaster BMW!
At The Automaster BMW, it's our mission to make shopping for your next vehicle as simple and comprehensive as possible. We know that buying a new vehicle is a big decision, and it deserves a lot of thought as to which vehicle is the right fit for you. Once you decide on your dream vehicle though, the last thing you want to do is run into time consuming financing paperwork.
We know that your time is valuable, which is why we encourage you to use our structure my deal tool to personalize a payment plan that's right for you online, saving you and effort that would be spent filling out paperwork at the dealership.
You can find this option available on every model page that you browse! It is located on the right hand side of the model image under pricing information. For mobile users, the Structure My Deal option is available if you scroll below the image listing & pricing.
The structure my deal tool is quick and easy to use, providing you with a multitude of online auto financing resources that are designed to save time and help you figure out the best possible financing plan for your next vehicle. To start, you can utilize our value a trade tool if you're trading in your current vehicle. It could save you up to 30 minutes of time, allowing you to have your vehicle appraised online and receive a real cash value within minutes.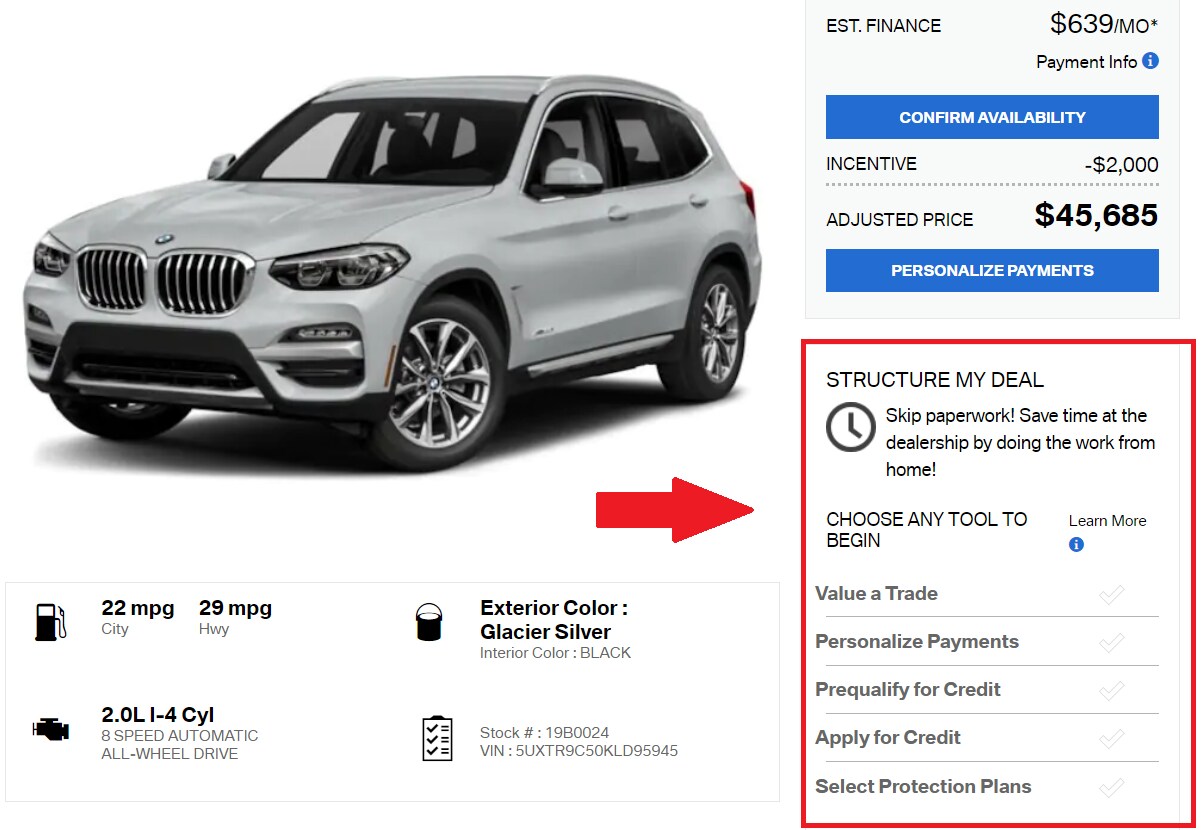 Next, you can personalize your payments for buying or leasing your dream vehicle. You'll be able to choose from and fill in a number of different factors to affect your payment options and decide on the loan or lease plan that fits your budget best. After you've figured out the right payment plan, you can pre-qualify for credit, allowing you to then shop with confidence knowing that you qualify for financing on your dream vehicle. After that, or if you already know you qualify, you can go ahead and apply for credit online, saving you upwards of an hour and allowing you to gain the confidence and options that you need to drive home in the new BMW model of used vehicle of your dreams today!
What Can The Structure My Deal Tool Offer You?
Value a Trade - Save 30 minutes! Get an instant trade-in value on your current vehicle.
Personalize Payments - Save 50 minutes! Choose between financing & leasing a new BMW, and use this option to create your own budget.
Prequalify for Credit - Save 30 minutes! If you have credit concerns this option can help determine if there are financing options available to you.
Apply for Credit - Save 1.5 Hours! If credit is not a concern at this time, or you prequalify, this option will get you started financing a purchase or lease! Once the application is complete we will review your infoamtion and reach out to you.
Select Protection Plans - Save 15 minutes! A new vehicle can be a big deal. Protect your investment by choosing from a varity of options to save on future service & repairs.
We want to make it easier and more enjoyable than ever for you to buy or lease your favorite new or used vehicles at The Automaster BMW, and with our structure my deal tool, you'll have no problem figuring out the financing plan that turns your dream vehicle into a reality!